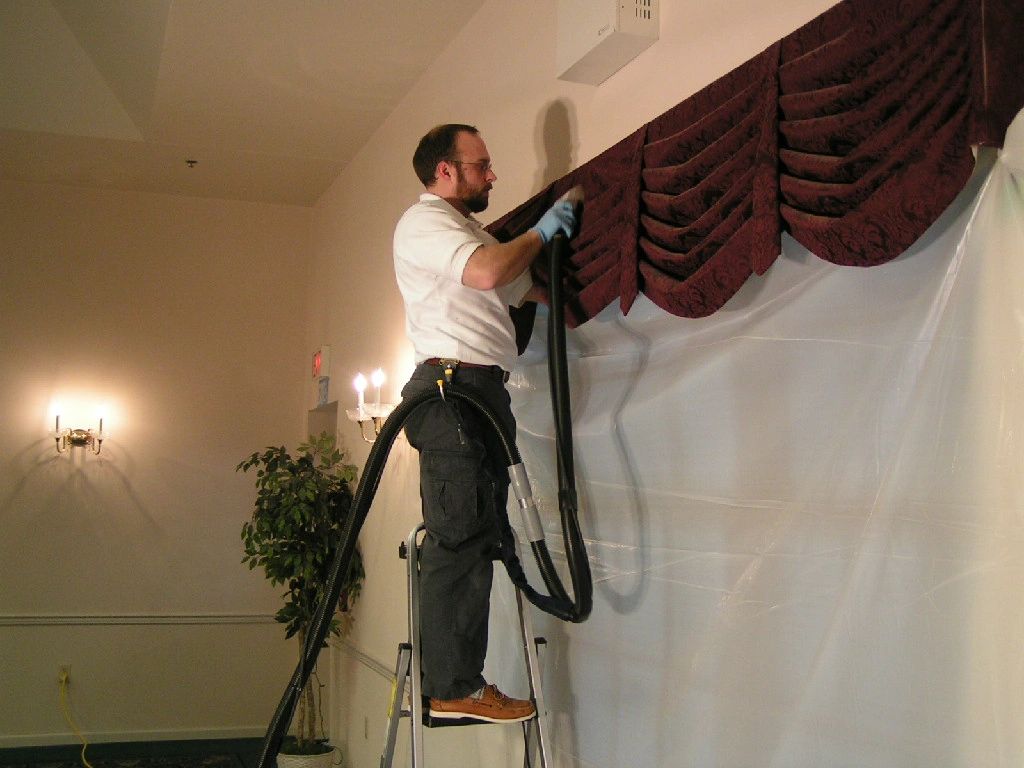 Johnson's On-site uses a portable system that is commonly known as an injection / extraction system. This system allows our service technician to safely wetclean or dryclean anything made of fabric. The technician brings the system into the home, so there are no dirty hoses being dragged across your clean carpeting from a vehicle parked in the driveway.
The On-Site process is gentle enough, that it allows for the cleaning of the most fragile and delicate fabrics, including sun-damaged linings. There is no agitation, unlike traditional drycleaning, so that we have the ability to guarantee against shrinkage or damage. The cleaning system injects the cleaning solution into the fabric and extracts the dirty solution in the same motion. It is a very effective way to deep clean your window treatments.
Whether we are wetcleaning or drycleaning, the chemicals that we use are safe and affective. As a matter of fact, the drycleaning solution is safe enough to use in nursing homes and hospitals, and it will not affect sizing, dyes or a flame retardant.
On the day of your appointment, the technician will bring the system into your home, and place plastic over furniture that cannot be moved and behind the window covering to protect from overspray. The technician will then perform a pre-vacuum and pre-treat the fabric with a pre-spray to help remove soils. He will then proceed to clean the fabrics and before you know it, they are all done.
We are part of a national network of trained professionals that can clean any soft, fabric-based Hunter Douglas product including Luminette® Privacy Sheers, Alouette® Light Louvers, Silhouette® window shadings, Vignette® Modern Roman Shades and Duette® honeycomb shades. Our dry method is recommended for certain fabrics. The system also allows to either wet or dry clean all types of fabric window coverings including swags, jabots, balloons, valances, cornices, as well as delicate sheers, antique satins and more. We can also clean blackout shadings and Luminette® Privacy Sheers, right where they hang.